The Diamond Games
This weekend Ann and I decided to go on a spontaneous trip to Antwerp to go see the women's finals of the Diamond Games featuring Venus Williams and some French chick I had never heard of (Amelie Mauresmo).

We arrived Saturday night, tired and hungry, and walked to the hotel, which did nothing but inflame our appetites even more (and make Brian even more tired and grumpy because walking in the cold is not on my list of favorite activities). Alright, so I was being a bit of a baby. I admit it. But when Ann suggested we eat at this all too trendy restaurant (this place had barren white walls with large photos of children in poverty on the wall) I balked. "Forget it, we're leaving." Call me crazy, but staring at pictures of half naked poor kids doesn't create a warm dining experience for me.

The problem is, it was now 8pm on a Saturday night in Antwerp. There were no tables available anywhere. After walking around for another ten minutes I just picked the first place with seating that said "Steakhouse." Let this be a warning to you. If the place is a third full on Saturday in Antwerp… there's a reason. Bad service. Bad fries (which in Belgium is a capital crime). Bad béarnaise sauce (according to Ann). Note to all you travelers: stay away from the "Argentinian Steakhouse" right by the Cathedral in Antwerp.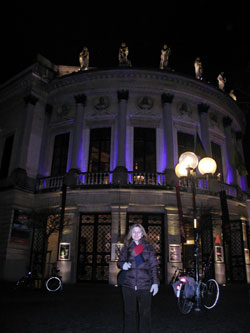 The hotel we stayed in (Hotel Theatre), was right next to a very old and famous theater in Antwerp called the Bourla Schouwburg. The place is decorated like a roman amphitheater with statues of famous old dead guys and their names in gold letters surrounding the circular entrance. Believe it or not, Ann had performed on the stage of the Bourla for a performance of "Bacchanten". I asked her if she played a nymph, but she said her job was to lead out her friend who was playing the blind sage. Apparently, there were no nymphs involved in the production.

Sunday morning was a little better. We slept in. Went to the stadium to buy tickets. We had lunch in this café facing the Town Hall that had great smoked salmon. Then it was time to go to the game. The tournament is known for the prize that can be won if the same person wins the tournament three times in five years: a solid gold, life-sized tennis racquet with a handle encrusted in diamonds and a tennis ball made of diamonds set into the diamond "strings". A million euros. And Venus Williams was playing for her third win of the tournament.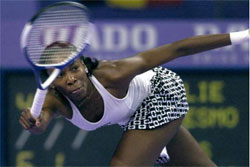 So, Venus Williams and Amelie Mauresmo start playing, and right from the start it's a close match. Venus wins the very first game by breaking Mauresmo's serve. But Mauresmo comes right back and does the same. Venus finally wins the first set 6-4. Both of these women hit the ball with such amazing strength. The TV doesn't convey the effort that these players are putting into every shot, and simply how amazing it is that they can set up and execute a hit on the ball when it's moving so fast.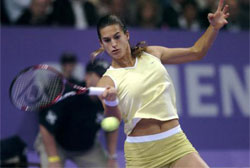 Both women seemed to be 'power' players, trying to beat their opponent by ramming the ball down their throat. Mauresmo had a little more finesse and agility than Williams, who had more power and a slightly better serve. Right from the first set though I could see (tennis pro that I am) that Venus was making many more errors than Mauresmo, who was slowly figuring out exactly how to play her. Whenever Venus was on the ropes, she usually ended up losing the point, whereas you could never count out Mauresmo from any point or from any set regardless how many points or games she was down.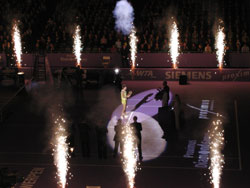 The worm turned in the second set. Venus was up 4-2, Mauresmo came back with three straight to make it 5-4. They tied at 5, and Mauresmo won it after two more. In the third set Venus jumped out to take the lead, but when she had a chance to put away Mauresmo and win the game to go up 5-2, she hit too easy of a shot and Mauresmo capitalized, winning the point, then the game (to make it 4-3), then winning the next two games. The last game was the best of the entire match. The longest volleys. The longest game (something like eight or nine deuce points) but finally Mauresmo got the opportunity, with Venus having missed her first serve, she just played the point out until Venus hit it into the net, and the crowd, which was composed of many French-speaking Belgians and French nationals, erupted.

For forty Euros a head, it was some damn good entertainment.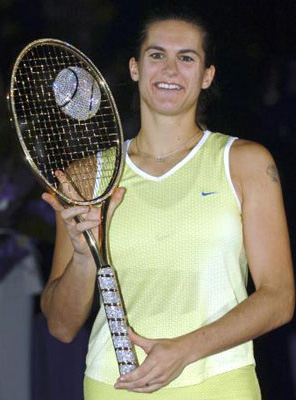 Making the day complete, we were on the first tram back to the Central Station, we caught a train back in fifteen minutes, and so far it hasn't rained.

I'd like to say a big thank you to my honey baby for putting up with my grumpiness and suggesting this very fun excursion.

See you all next time at Roland Garros (which is the French Open for all you tennis ignoramuses out there).