Blanca's Visit
For those of you who don't know, Blanca is one of the founding members of Smelly Pig, the world-famous two guitar, four singer, one plastic tambourine band whose appeareances at the Bucks County Coffee House are legendary.

Blanca is originally from San Esteban de Gormaz, a small village in Soria, an hour and a half north of Madrid. We met originally in Princeton when she was working as an au pair. Nowadays Blanca is living in Brussels while she completes a five month internship at the European Parliament.

Blanca made the mistake of letting us know that she was close by, so we invited her to come and visit us at her earliest convenience. Of course, we marketed all the positive points of the Netherlands in an attempt to secure her visit: legalized marijuana, legalized prostitution, little towns with cute canals, tulips, cheese, etc. What we left out was the fact that it would probably be cold, grey, and rainy the entire time she was here.

And it was.

Friday I picked her up at the train station and we walked back to the apartment with me pointing out the important sights of Dordrecht: "that's the apartment we thought we had, but we didn't get. Oh, that's the apartment that we told them we would sign the papers for, but we didn't. Above this restaurant is an apartment we looked at, but we didn't like. Oh, that's the town square with a statue of some guy."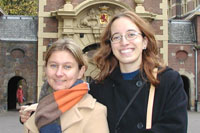 Saturday, we went to Den Haag. This is where many of the government offices are, and is a historically important town because many international events and treaties took place in Den Haag. The International Court of Justice is located there now, as well as the Queen's 'working palace', and a lot of expensive stores who cater to the indiginous population of lawyers and bureaucrats.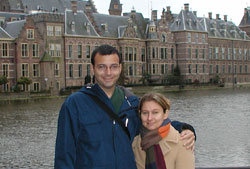 It's cute town. The center of the city has this large rectangular pond around which the houses of parliament are located. There are many museums and we visited the Mauritshuis museum, which was the first public museum in the Netherlands, a gift of Prince William the 5th of Orange, who amassed quite a few Rembrandts, Vermeers, and other works from Dutch and Continental Masterpieces.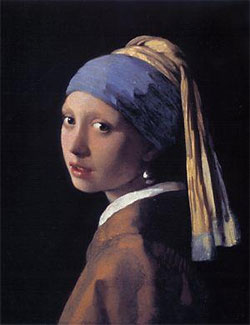 Ann and I finally got to see the famous painting "Girl with a Pearl Earring" (which was the subject of a great movie, Scarlett Johanssen is in it). It is truly striking with its black background, subtle use of light and contrast, and the fantastic way the girl's expression is captured. It's definitely worth seeing.

While we were there we also took a tram ride to the beach. That area is called Scheveningen (don't even try to pronouce it correctly), and during the one week in summer when it is sunny and warm, all Dutch people are required to put on their speedos and lay on the beach. We hope not to miss it next summer (as the liberal-minded Dutch women are usually also well-endowed). Okay, well *I* am looking forward to it.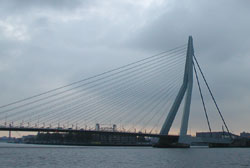 Sunday we got up bright and early (11:30am), and after another painful "Well I don't know, where do YOU want to go?" we settled on Rotterdam. The sky was (unsurprisingly) threatening rain, but we lucked out, and it just remained overcast for all our trip. We got out at the Rotterdam Blaak station, which is right were a famous Rotterdam landmark is located: the Kubis apartments.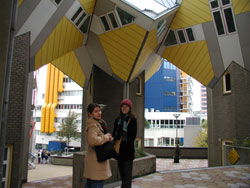 This is a post-post-modern apartment complex made up of what look to be large yellow cubes suspended on concrete stalks and set at an angle. Really trippy. But that's what you get when you mix architecture and legalized recreational drug use.

We walked (forever) to the harbor front, passed up the Maritime Museum, and settled on the World Museum. This was an interesting collection of largely religious artifacts from all continents. There was a very tasteful exhibition on the legacy of slavery, but there was also an exaggeratedly tasteless egotistical exhibit from a Dutch artist who simply loved being shocking. Ugh. Art. Gotta take the bad with the good.

We hope that this account won't discourage any of our other friends from making the trip. I promise, it's much better in the spring and summer. Eventually the weather will be good enough that Blanca will come back and we will make the trip to Amsterdam (which is an hour and twenty minutes away) and we will take her to all the smoke shops, hookers, and casinos that she could every want. And I will extend that same generosity to any of our other friends who want to come.